Definition of Enlarged Prostate
Prostate is the male reproductive gland, which produces the fluid that carries sperm during ejaculation. The prostate surrounds the urethra through which urine passes out of the body, and in cases when the prostate gland becomes enlarged, it starts to press the urethra causing several problems like bladder or urination problems. This condition is called benign prostatic hyperplasia or prostate enlargement - BPH, and it may happen to all man in their older age.
Causes
The actual cause of BPH or prostate enlargement is unknown. Risk factors that affect the possibility of BPH development may be that all men will have an enlarged prostate if they live long enough because only a small amount of prostate enlargement is present in men over 40, and more than 90% of men over the age of 80, meaning that chances of BPH are getting bigger as a man gets older. No risk factors have been identified in cases when men have normally functioning testicles.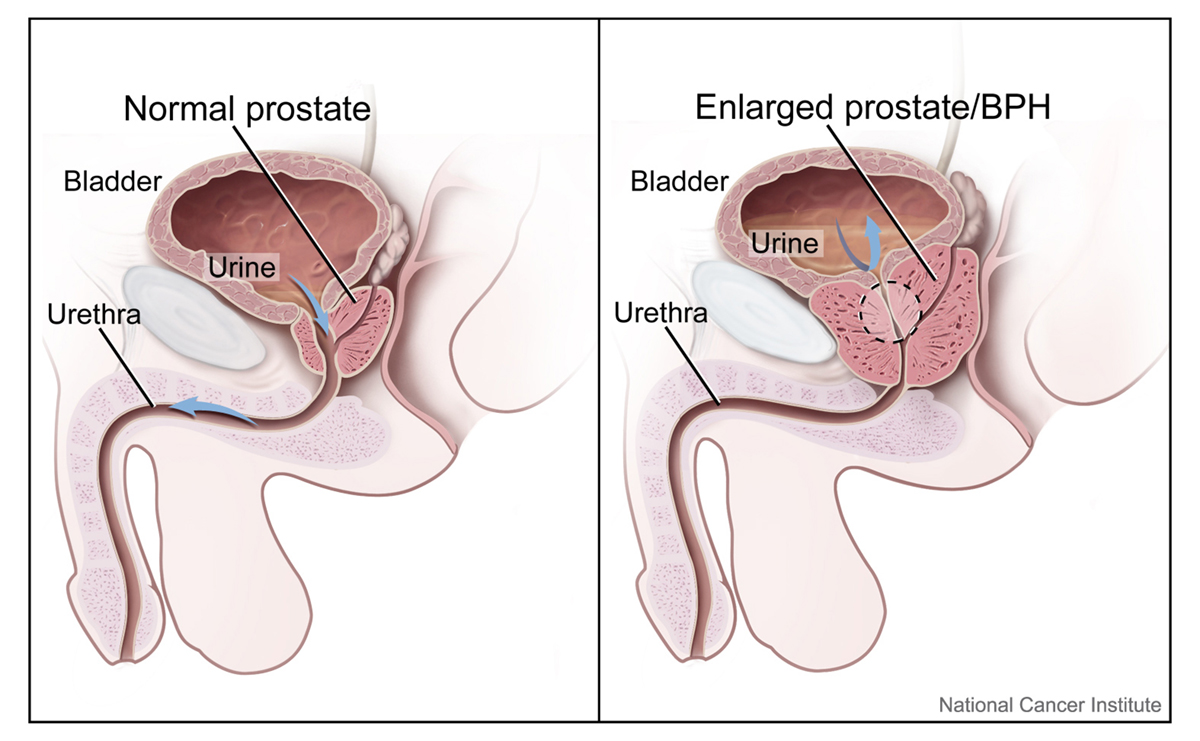 Symptoms
There are several BPH symptoms, which include the need to urinate two or more times per night, pain with urination or bloody urine, which may be signs of infection, strain when urinating, inability to urinate, or urinary retention, incomplete emptying of your bladder, dribbling at the end of urinating, incontinence, weak urine stream, sudden and strong urge to urinate and delayed or slowed start of the urinary stream.
Treatments for BPH
Based on the severity of your prostate problems, various treatments can be recommended, from lifestyle changes, diet, exercise, medications, or supplements, and in some severe cases, surgery is performed. A large portion of man over 60 years of age shows symptoms of BPH, but most of them are mild, and home self-care prevention is often enough. If you have BPH, you should have a regular yearly exam to watch for the progression of your symptoms and make any changes in treatment if it is necessary.
In the area of self-care for BPH cases, you should try to avoid alcohol and coffee and exercise regularly. Try to urinate on the first urge and to reduce stress. In case of prostate inflammation, antibiotics or hormone-based medications are prescribed.
Many herbs have been used for treating enlarged prostate problems. Saw palmetto is often recommended as an alternative to medications and it has been used by many men to ease BPH symptoms.
Antibiotics may also be prescribed in cases of chronic prostatitis, which is inflammation of the prostate, which often accompanies BPH.
Benign prostatic hyperplasia (BPH) is one of the most common benign diseases of the urinary system in middle-aged and elderly men. The prostate is an almond-shaped organ located at the junction of the bladder and the urethra, and comprises the central zone, peripheral zone, and transitional zone.
The morbidity of BPH can exceed 50% in men older than 50 years and can exceed 80% in men who are 70 years of age and above; evidence clearly shows that the morbidity of BPH increases with age.
At present, BPH can be treated by both non-pharmacological and pharmacological treatments. Over the past few decades, a wide variety of drugs have been developed to prevent the progression of BPH and improve the QOL. Many BPH patients achieve satisfactory treatment outcomes after receiving such treatments.
We conducted an extensive literature search of PubMed for articles relating to the drugs used to treat BPH or LUTS. We also searched several official websites for specific drug information or guidelines relating to BPH or LUTS, including the United States Food and Drug Administration (FDA), the European Association of Urology (EAU), and the American Urological Association (AUA). The following search terms were used: benign prostatic hyperplasia, BPH, lower urinary tract symptoms, LUTS, drug, treatment, therapy, safety, efficacy, side effect, adverse reaction, mechanism, ?1-adrenergic antagonists, ?1-blockers, 5?-reductase inhibitors (5-ARIs), muscarinic receptor antagonists (MRAs), ?3-adrenoceptor agonists, beta-3 agonists, phosphodiesterase5 inhibitors (PDE5Is), plant extracts, and combination therapy. We also used the names of specific drugs as search terms, including tamsulosin, silodosin, doxazosin, alfuzosin, terazosin, tadalafil, mirabegron, tolterodine, and fesoterodine.
We summarize the most commonly used drugs used to treat BPH. The most common forms of clinical treatment include ?1-blockers, 5-ARIs, and the combination of these two drug types. The mechanism of action for each type of drug, along with its specific target, can vary widely.
Furthermore, the drugs used to treat BPH exhibit a wide range of clinical applications, pharmacological actions, and side effects. It is also possible that the efficacy and side effects of each BPH drug may vary within the same patient population, and that the sensitivity of different BPH patient populations to the same BPH drug may also vary. Consequently, there is no universal therapy for LUTS-BPH patients, and individualized treatment plans are required to ensure the judicious use of medical resources.