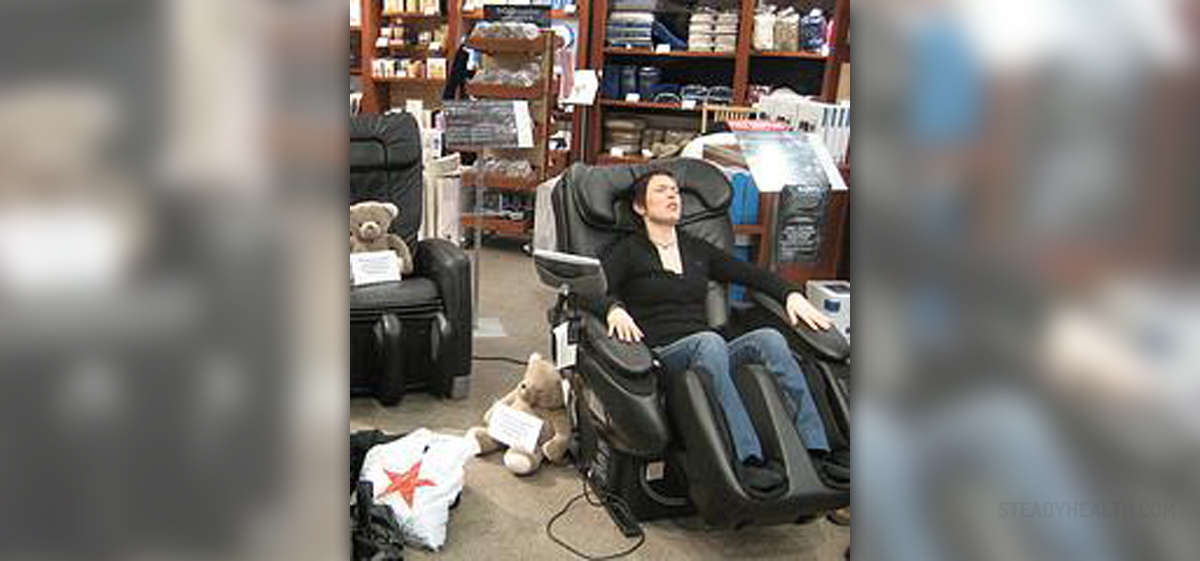 Chair massages are massages which are performed while the patient is seated in a special, ergonomically designed chair, with his/her clothes on. The practitioner applies the massage techniques upon certain spots on the client's body, relieving him/her of pain and providing relaxation. This kind of massage is sometimes called seated massage or on-site massage, due to the fact that it can be performed wherever since these chairs are completely mobile.
Some people have these chairs in their massage parlors. However, others rarely use them in objects of this type, saving them mainly for stand-alone massage booths or massage kiosks. What is innovative about these massages is the possibility for others to witness the process. Traditional massages are done in private, behind closed doors, while chair massages are open and clearly visible. Also, the whole massage process lasts shorter in this case, being cheaper at the same time. All these factors contribute to the popularity of chair massages.
Serenity Relaxation Massage Chair
This massage chair from Omega is one of the best ones available. Its completely ergonomic design allows those who are seated to experience the incredible power of massage effectively. Moreover, this chair is a recliner, which adds more to its versatility and the overall comfort it provides.
Serenity Relaxation is made of one piece wood back, colored in deep cherry, matching the beautiful swivel base. However, the design is not the main characteristic of this massage chair. Rather, it possesses numerous therapeutic properties such as a powered recline, a leg rest and a zero gravity position. All these options enable one to experience optimal massage experience. The zero gravity option puts a person in a position which relieves the tension from his/her back, allowing complete relaxation and serenity.
Additional Features
Apart from the crucial characteristics, Serenity Relaxation comes with an installed mp3 player which will be your source of soothing music to boost your massage experience. Just download the music you desire, connect it to the device through a provided USB memory stick, put the headphones on and enjoy.
Moreover, if you desire to read a book during your relaxing heat massages, adjust the recliner adequately and indulge into the world of literature, while the chair takes you into the world of pleasure.
The Massage Program
Seven airbags, located in Serenity Relaxation, provide you with the best possible massages applied onto different parts of your body. Squeezing done by these airbags can relieve tension and pain easily.
Additionally, vibrations penetrate into deeper parts of the skin and muscle tissue. This chair has eight vibration motors, for ultimate efficiency. Finally, with a swivel base of 360 degrees, you can move this chair in any possible position.