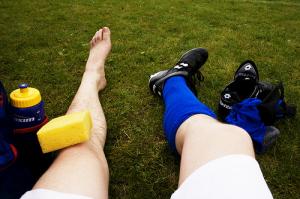 The Soccer Craze
Soccer has become quite a popular sport these days. Many children, boys and girls are playing it and learning how to play it around the world. There are many reasons for this. First of all, soccer is a creative and interesting sport, which is quite easy to pick up since the rules are pretty straightforward. Next, despite the simplicity, soccer involves quite a physical effort, making children and adults fit and in good shape, providing them excellent cardiovascular training during each soccer session. Finally, the expenses related to the equipment and training are not that costly, making this a good investment into your child's physical health.
Moreover, believe it or not, soccer is one of the safest sports around. Children around the age of 14 almost never get injured during soccer playing. Later, as they grow older, due to their bodies and the intensity of the game, more injuries occur, but are nevertheless below the number of injuries related to many other sports, like football, for example. This is why many parents allow their children to play soccer for fun, fitness and physical health. Still, there are many ways you can protect your child from injuries even further.
Preventing Soccer Injuries
Initially, one of the best things you can do in order to keep your child safe during his/her soccer trainings, is to have them trained by a professional. There are trainers which are qualified and certified by the National Soccer Coaches Association of America. These people are well aware of any injury prevention measures and know how to organize the training well, keeping these at bay.
Next, before the child even starts his/her trainings, a proper, certified, physical examination is a must. There, a child will be examined and, if there are any health problems related to physical illnesses or abnormalities, there will be pointed out. Then, the child may either get treated adequately before enrolling the soccer training course, or, if the problem cannot be treated, the coach will know about it and take good care of the child, modifying the training to suit the child's requirements and capabilities.
Finally, proper cleats or shoes are to be used, as well as mouthguards and protection for the limbs. Some of these may not be allowed during soccer games, but can be used during trainings.
Injury prevention is a necessity regardless of the sport you or your child are about to indulge into. Therefore, make sure safety comes before sport.