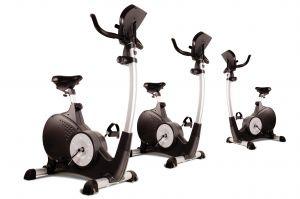 There are many popular brands, like ProForm, Nautilus and Schwinn, which produce home exercise bikes. But there is another company which has been present in the industry of exercise bikes for a long time and has earned a lot of respect in the physical fitness industry. These are the bikes coming from the DP, which is a company selling parts for the exercise bikes and the exercise equipment supplies.
DP Compared To Other Companies
The only ways to find the exercise bikes from the DP Company are either  via retailers or online order. This is due to the fact they are very old.
The DP Fit For Life Airgometer upright bike is one of the most popular products of this company. It has basic features of the bikes of this class and its price goes from 1000 to 1200$.
Vita Master MBP2 is the next model coming from the DP. This model has tension controls and many program setting, along with the battery operated controls and heart rate monitor.
Several other models come from the DP and some of them are Vitamaster MD1933, Sit For Life Aircizer and Prime Fit 6100. But we cannot disregard DP AirCisor and DP Air Advantage either, since these are good models also.
Schwinn
At the beginning of the text, we have mentioned the leading brands in this industry among which are also ProForm and Schwinn. The Airdyne exercise bike, along with 130 upright and 230 recumbent bikes, is produced by this very popular company. One of the highest rated products of the Schwinn is the Evolution model, which costs 1000$. It has a direct drive gear, adjustable resistance and inertia drive system. All the products coming from the Schwinn Company cost from 350$ and sometimes even over 1000$.
ProForm
Bikes ranging from 150 to 1200$ come from this company. The SR30 is one of the low cost models and it presents the basic model. This model has LCD console, pulse sensors and magnetic resistance. The ProForm makes many other models among which are GL 105, GL 35 and SR80. If you want to get an exercise bike with basic functions, you may get the bike from the DP Company. They will strengthen your cardiovascular system and tone your thigh and leg muscles. DP models are not the top models available in the market and they are limited in some ways, but they will get the job done.